Greetings from Nan and Bernie! The Dykhouses have recently returned from a productive trip to Cambodia. Below, in their own words, they share exciting news about what the Lord is accomplishing there.
"Hello, everyone! This past February we were able to return to Cambodia. We are never sure what all we will be able to do, even though we do have plans in place. In our December newsletter, we talked about some of our goals, and we're happy to report that two important ones have been met, thanks to you, our donors!
As you may recall, the playground equipment was in desperate need of repair. It wasn't safe or fun. The swing seats had all rusted off, many bolts were missing or loose, and the slide had huge rusty holes in it. Bernie got to work "cipherin" and quickly decided how and what he needed. The swings now are swinging, and the slide is smooth and without holes. And the kids from all around are very happy.
We are happy to introduce you to Sokay Oum, our new house mom. She is a mom whose children have been taken to China, where she cannot go. And while we don't know the details of that, we are trusting that God is giving her some new kids to love on! She has been a Christian for over a year, and moved 90 kilometers to become our new helper.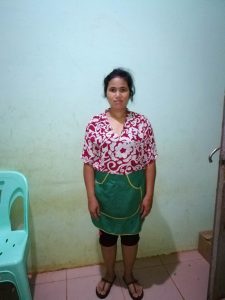 Sokay will live onsite, care for the children, and help with cooking and laundry. This will allow Pastor Sopheak to give more time to his duties as pastor. Speaking of those duties, we're very excited to share the most important news we can share, something that happened after we left. When we first arrived Sopheak was teaching about baptism and, as always, God's plan of salvation. He was teaching the why of baptism, and both young people and the old were very interested. They, as a congregation, were planning a retreat/baptism event in April. And Sopheak reports that three of our children, along with Sopheak's daughter Eleaza and many other church members, 26 in all, were baptized! Maly Phanna, Maly Srey, Chorn Luka, and Eleaza – you make our hearts happy!
More good news: The kids are growing a lot! While the boys (ages 11-13) are short for their age, there is a new maturity to Phanna and Luka. Maly Srey is a beautiful young lady. She helps in the kitchen, offers help during worship times, and watches over the baby and younger children. She recently found a notebook among her things that contained both hers and brother Phanna's birthdays, so now we know she will be 15 this coming November.
We want to extend a special thanks to Sopheak's brother Nov Phalkun, who went to Cambodia and helped with the baptism, new school uniforms and clothes for the children.